Cook More in Less Space with Countertop Charbroilers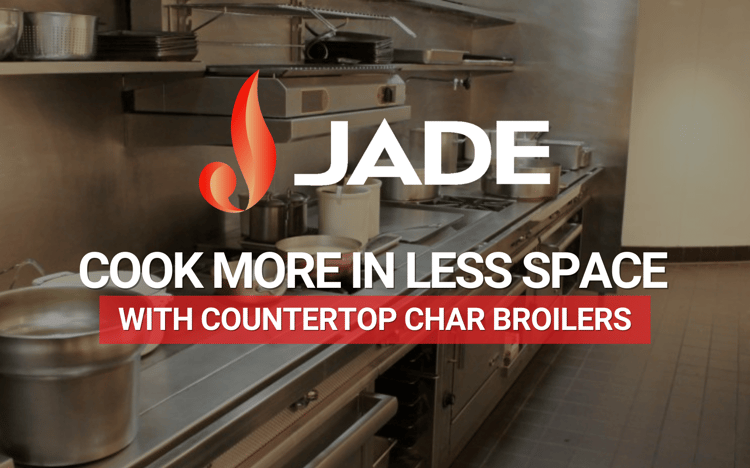 One of the biggest challenges faced by commercial kitchens is space. There's never enough. And when altering your menu or adjusting your production volume, that usually means adding more cooking equipment, generally in a space without much room for it. Small, crowded kitchens shouldn't be limited to inferior equipment, just because there isn't a footprint for something better. Because there is.
If your restaurant kitchen requires the power and cooking efficiency of a heavy-duty charbroiler, but may not have the space to add one, a countertop char broiler is just what you're looking for. Even more, there's a countertop char broiler from Jade that not only maximizes your kitchen space but also your staff's time and effort.
Jade's Supreme Char Broilers are durable and handle the demands of the busiest kitchens.
Footprint? What Footprint?
Supreme Char Broilers from Jade are compact and designed to sit on your countertop. This makes it easier to add to nearly every type and size of commercial kitchen without compromising your existing flow and processes. Available in widths ranging from 12" all the way to 72", even the smallest real estate on your counter can hold a countertop char broiler. Whether you're cooking meats or vegetables, operators can increase their production volume without decreasing their available kitchen space.
The Power of Jade in a Smaller Package
Everything you come to expect from a Jade cooking solution can be found in Supreme Char Broilers. This equipment features heavy-duty cast iron grates with built-in grease guides to channel away excess fat and reduce flaring, and a strong leg design that is welded into the frame, not bolted. Precise heat control thanks to infinite control manual gas valves at each burner mean more even cooking and better quality products.
And even for a countertop solution, it still looks the part with stainless steel sides, front, and plate shelf.
It's Shipping Now
While delays are getting longer for other products, Jade's Supreme Char Broilers are a quick shipping solution that gets your kitchen cooking faster and more efficiently, without waiting months on end for the product to arrive. Contact Jade today to learn more about the available quick shipping options and how you can get the Supreme Char Broiler in your kitchen, fast.
No two commercial kitchens are alike, but there are Jade cooking solutions designed to fit them all. See how other restaurants have maximized their space and efficiency with Jade by browsing our projects below.